Later in the evening we caught the last train back to Casablanca, a four hour journey that left us at the Casa Voyageurs station where we'd first arrived two weeks prior. This time however, we noticed a wifi network that we hadn't found our first time through. It just so happened to be that of the Isis Hotel (branch mayor @claytonhauck), which uses the same network name at all of their hotels and happens to have a location literally behind the train station.
As we were without a place to stay and the train to the airport had stopped running for the night, we decided to head to the hotel bar (this time less North Korea, more South Beach) and weigh our options. When the bar closed we brought our beverages into the hotel lobby and continued to weigh our options. By 2:00 AM, the hotel had caught on to us and we moved ourselves back to the train station where we were pretty much out of options. Around 5:00 AM we boarded the first train to the airport, which according to sleepinginairports.com, is one of the worst airports in all of Africa.
After discovering that our flight would not be leaving until noon, we set up camp in a desolate corner of the ticketing area and slept until the morning crowd began to roll in. After a final Moroccan coffee and a quick trip through passport control, we were on a flight to Madrid, where my dreams of spending one night in Iberia were given life by a friendly ticketing agent only to be shattered moments later by his supervisor. Clayton and I parted ways, as he was lucky enough to have an overnight layover in Madrid and I was unfortunate enough to be spending the night in Brussels.
After a decadent meal from cafeteria in Barajas Terminal 4, I was on a flight to Brussels, where upon arrival I walked no less than two miles to passport control and proceeded to wander the arrivals area searching for an ATM from which to withdraw Euros so that I could pay for a train into the city. From the Brussels Central station, I wandered aimlessly, extra careful of my surroundings as I've heard that Brussels thinks it's Chicago and some of the streets are a bit stab happy. I'd decided that I would get a cheap hotel for the night rather than spend another night in an airport or train station, and was quite excited to find an Ibis, only to discover that the rate for one night here was more than the rate for one week in Morocco. Eventually I found a decent little spot in a converted apartment building, conveniently located down the block from the Delirium Cafe, where I was able to negotiate an acceptable rate with the clerk once I convinced him that I was in fact traveling alone and only looking to stay for eight hours. After dropping my belongings in the room, I set out to find dinner, which came in the form of an hour long conversation about Morocco, the United States, and life in Belgium, as well as a shawarma sandwich and a to-go beer from a Moroccan cafe down the block from the hotel. This of course was followed by a brief stop at Delirium before retiring to the hotel for a few hours of sleep and a shower before my flight back to New York in the morning.
Upon arriving at JFK, I was flagged at passport control and sent for further inspection, where I waited for no less than forty five minutes while the customs agent fidgeted with his Dell PC, attempting fruitlessly to log into his system while asking me why they even sent me over to him in the first place. Eventually, but not before breaking a sweat and trying to pawn his job off on another agent, he gave up, told me to have a good day, and waved me through and into the arrivals area. At this point I entered the United States with my backpack full of foreign currency, black tar heroin, and illegal immigrant stem cells only to be robbed of it all by a gang of unruly teenagers in baggy pants while transferring subways trains on my way home.
The end.
This entry was written by brett, posted on April 18, 2011 at 9:56 pm, filed under Africa, Morocco, New York, Travel. Leave a comment or view the discussion at the permalink.
Saturday night in Meknes was pretty interesting. We almost got hit by a car that spun out in the rain, saw a legit old man bar fight, hung out in the lounge of the Rif Hotel with some bored street women, and ended up at an after hours speakeasy where some agitated drunkards inquired as to our familiarity with the first page of the Koran before buying us a round of beers.
On Sunday we wandered the old section of Meknes, which feels like a completely different city altogether. Though relatively ignored on an international level, Meknes is a pretty important city within Morocco. At one time it was the capital, though this is true of pretty much every large city in the country. The medina is pretty low-key, and much less touristy than other cities in the country. It's still pretty easy to get extremely turned around, which we did multiple times, at one point wandering back and forth across the perimeter of the royal palace for a solid hour.
Once we were medina'd out, we found our way back to the hotel to grab our checked bags and figure out where we'd stay in Fes. From the lobby, I was able to book a same day deal at the Ibis in Fes through the browser on my phone, which worked out well, as it's literally the closest building to the train station.
Fes is the religious and intellectual capital of the country. Much like Meknes, the old city and new city feel like completely different places. Unlike Meknes, you're not likely to end up in a carnival or a speakeasy. It was cold and dark and rainy when we arrived, so we decided to grab a bite to eat and wander the new city for a bit and leave the old city for the next day. The new city is very modern and much larger than I'd anticipated. There's also not much to see, short of some very New York looking delis, international hotel chains, and neon storefronts.
We made it back to the hotel quite early, where we relaxed and caught up on the internet in the hotel bar, which, with it's supermarket fluorescent lighting and general lack of things, might as well have been the lobby bar at the unfinished pyramid hotel in Pyongyang.
The next morning we walked a few miles to Fes el Bali, the ancient medina of Fes, which is currently the largest entirely car free urban area in the world. We spent the day getting lost in the maze, bartering for gifts to bring home, and watching people live their lives pretty much as their families have since the city was first established over 1000 years ago.
Meknes: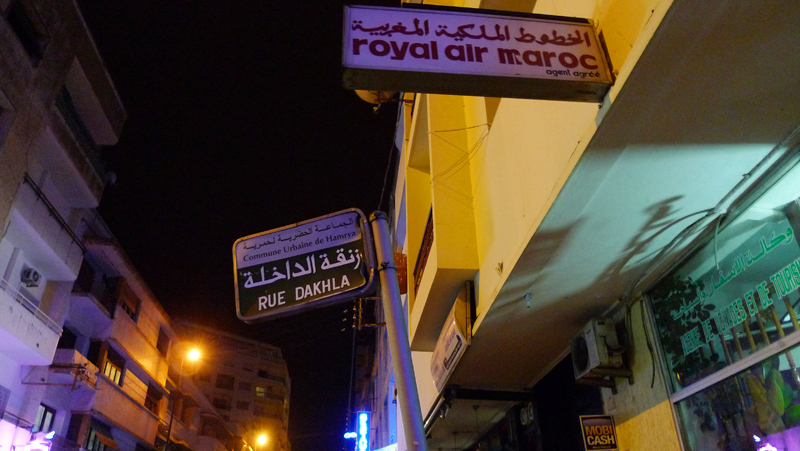 New Fes: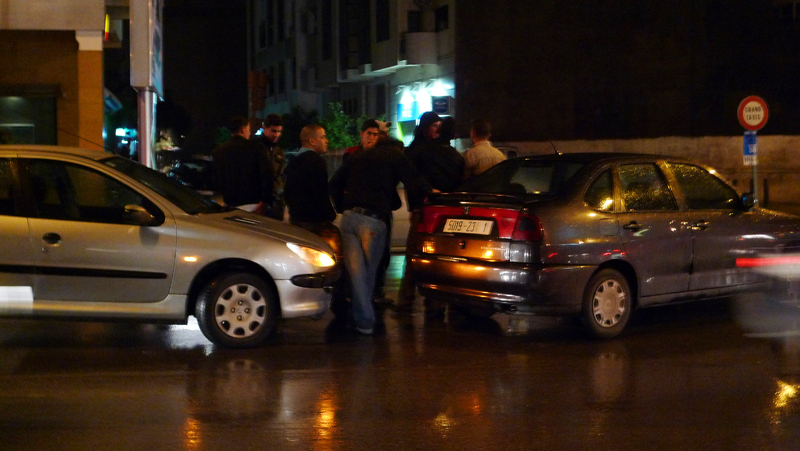 Old Fes: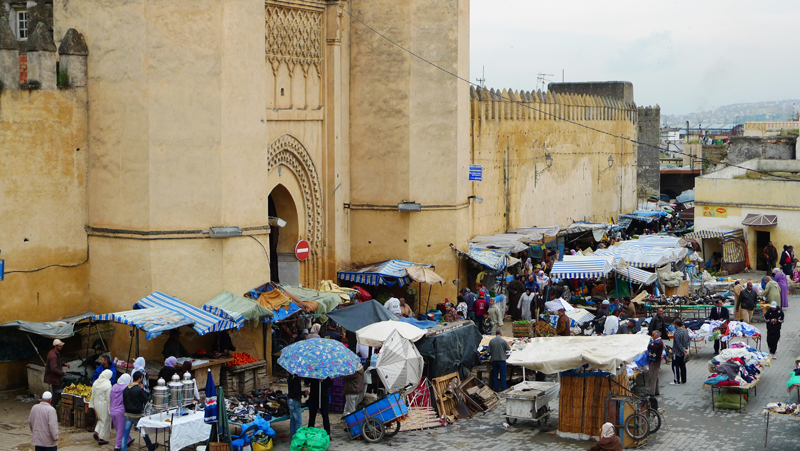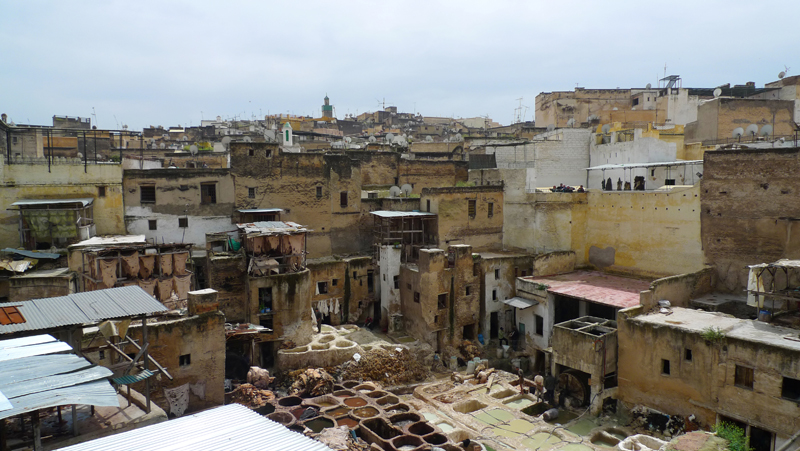 This entry was written by brett, posted on at 9:28 pm, filed under Africa, Morocco. Leave a comment or view the discussion at the permalink.
(Days Two and Three)
We left Ouarzazate just after noon on Wednesday, headed out on the longer but more scenic route to Merzouga, which would take us through a mix of desert, mountains and gorges, as well as a surprising amount of berber villages and small to mid-sized towns. As the drive ended up taking almost eight hours (including a stop for a game of pool and a serving of abandoned gas station tajine with peach juice on an outdoor patio twenty feet from a gas pump), we drove the remaining portion from Erfoud to Merzouga (one of the more desolate stretches of the drive and the beginning of the true Sahara) in total darkness. Driving at night is not recommended in rural Morocco not because of the threat of banditry, but because both people and animals like to walk down the middle of the highways at night and those that are piloting motor vehicles (mopeds, cars and trucks) tend to not use their lights. Fortunately we had the sense to turn off of the main highway and drive somewhat aimlessly down a secondary road in the direction of the dunes to find a lodge to put us up for the night. Of course we chose the palace (The Nasser Palace) with the gigantic sign with two camels and a wifi logo.
After negotiating with the owner (who spoke no less than eight languages) for a while on the price for a room with dinner and breakfast, he agreed to knock down the price because we were from Chicago and his brother lives there with his new wife who was once a guest at the palace. The dinner- a delicious homemade soup and chicken tajine with a bottle of Moroccan rosé was worth the cost of the room alone. The owner of the palace joined us for a bit of the meal and seemed to be pretty bored with the fact that there were a total of six guests spending the night, two of which were sleeping in tents in the desert. After he went of to talk to the Italians, the one shitty employee came by to pitch himself as a tour guide for the dunes- which are a thirty minute hike from the palace. Though we politely declined by suggesting that we'd show ourselves to the dunes in the morning, he insisted and even offered to "take us to see the black people" (there is a village of Senegalese refugees next to Merzouga) for an extra fifty dirham. After dinner we explored the roof and took some long exposures of the desert, which actually gave us our first real view of the dunes that lie just past the palace.
Thursday morning we woke up at 5:45 to hike to the dunes for sunrise, which is quite possibly the first time in my adult life that I've seen a sunrise in a situation where I had not stayed out acting a fool all night beforehand. The dunes themselves (Erg Chebbi, they're called) are hundreds of feet tall, exist over an area three miles wide and fifteen miles long, and form the buffer between the towns in southeastern Morocco and the border with Algeria. Getting to the base of the sand from the palace took about twenty minutes and climbing to the top another half an hour. We spent a few hours lounging around at the top, enjoying the morning golden hour and looking down at the village in the distance. Listening to R Kelly on Clayton's iPhone while tumbling down the backside of the dune towards Algeria was pretty much the highlight of my day.
After returning to the palace for breakfast (as well as the stink-eye from our would-be tour guide) and a pool session, we packed up our trusty Dacia and hit the road back to civilization, not knowing whether we'd make it back to Marrakech that night or sleep in the car somewhere along the way. We'd decided to take the shorter, less scenic (relatively), and more desolate (way less towns, no westerners) route back to Ouarzazate, which ended up cutting that leg of the drive from eight to just over five hours. Though we'd stopped halfway through for strawberry wafer cookies and bottled coke at a little village store, we decided to stop back in Ouarzazate for a real dinner (at the upscale Moroccan restaurant immediately next to the lowbrow Moroccan restaurant at which we'd eaten dinner two days earlier), over which we decided to return to the hotel where we'd stayed two nights earlier and negotiate a return customer deal. Surprisingly this worked and we agreed on a rate significantly less than we'd paid earlier in the week, provided we would forego breakfast. This was not an issue, especially considering that they failed to inform us that we were actually entitled to breakfast on our first stay.
That night we decided to call Tarik, the rightful owner of our vehicle, to attempt to make arrangements to deliver said vehicle in Marrakech the next day. Tarik is not fluent in the combination English and Spanish with a few words of mispronounced French and Arabic, and this proved to be a failure. After calling our friend Fadil in Rabat and requesting his skills as a translator, we had an appointment to meet Tarik at the Marrakech train station the next morning between 11:30 and noon. This would require us to leave Ouarzazate by 7:00 in the morning, not drive off a cliff crossing the Atlas mountains, successfully navigate Marrakech traffic on a Friday morning, and find a place to park the car and locate this person in the center of the city. Miraculously, this worked out perfectly and we waited with the car parked illegally in the exit of the taxi turnaround at the station for about ten minutes before Tarik showed up and repossessed the car. As a parting gift, we left him with a burnt cd (we managed to get a few of the discs to work) containing Weezer's Blue Album and Pinkerton, as well as another containing the first half of the new Kanye album, both which I will, with any luck, not hear again for quite some time.
After buying second class (never again) tickets back to Rabat, we posted up in the upstairs of the station McDonald's, taking shelter from the 95 degree heat and hoarding wifi and stuffing our faces with freedom frites. Immediately after situating ourselves in an eight person compartment in the car second from the front of the train, I knew second class was a mistake, as the train was full and the air conditioning not in use. The next five hours were somewhat of a fever dream, as I'd dose off and periodically snap back to life dripping sweat wondering how I could still possibly be listing to the same LCD track.
Back in somewhat familiar territory in Rabat and covered in stale sweat, we walked in circles around Fadil's office for twenty minutes before finally calling him to realize that we'd literally been two blocks away the whole time. We had beers at the French restaurant next door and picked up pizzas to take back to the apartment where we enjoyed more beers and some internet television and music swapping while debating going to "Le Purple", the club down the street, just to see how bad it could be. Fortunately we did not do this, and instead went to bed at a decent hour so that we could actually accomplish things the next day. These "things" consisted of eating kebabs for lunch in Rabat, jumping on a train to Meknes, and hopefully finding a place to stay. Thinking somewhat ahead, I took care of the place to stay just before we ate lunch, when I booked an absurdly cheap last minute rate at a French chain hotel in the new section of Meknes.
We spent last night investigating the seedy underbelly of Meknes, the bulk of today exploring (getting lost in) the old city of Meknes, this afternoon traveling by urine soaked-second class-standing room only train car to Fes, and this evening wandering the new city of Fes in the rain. More on that soon.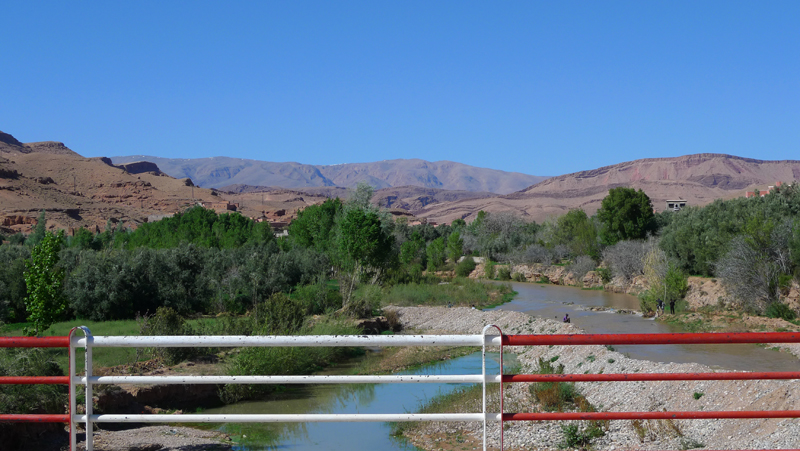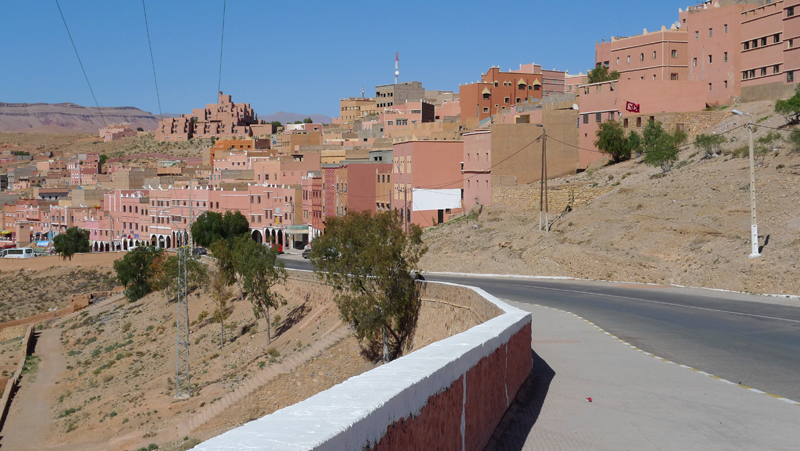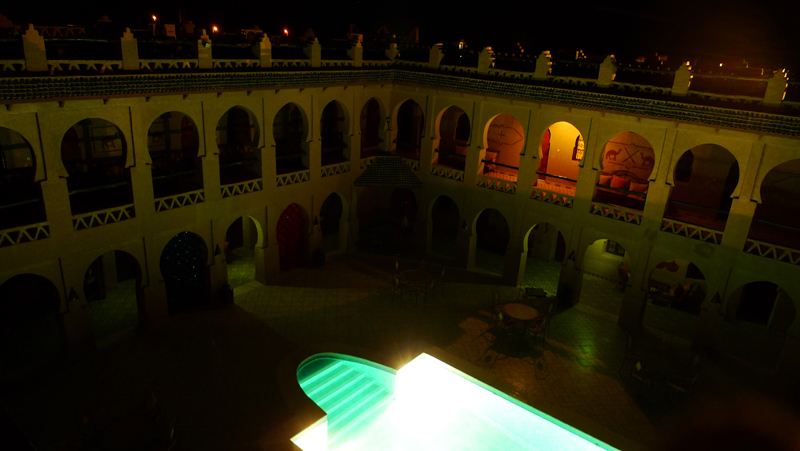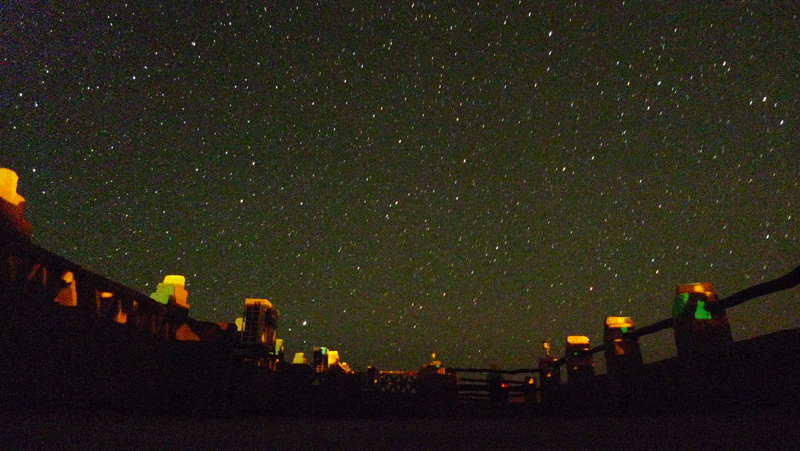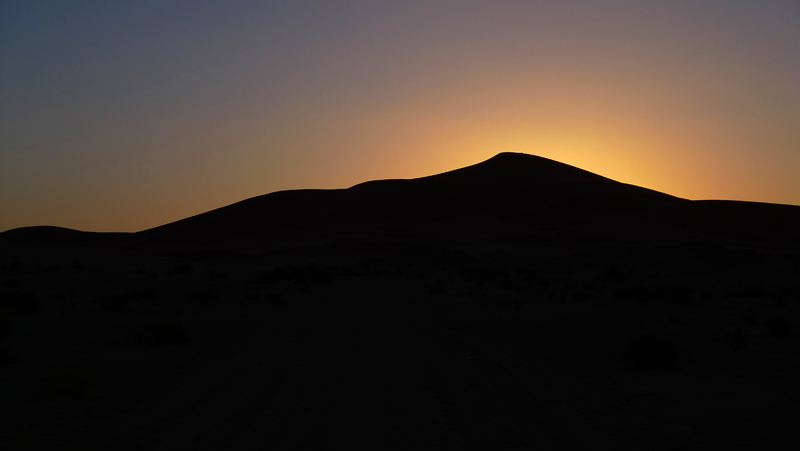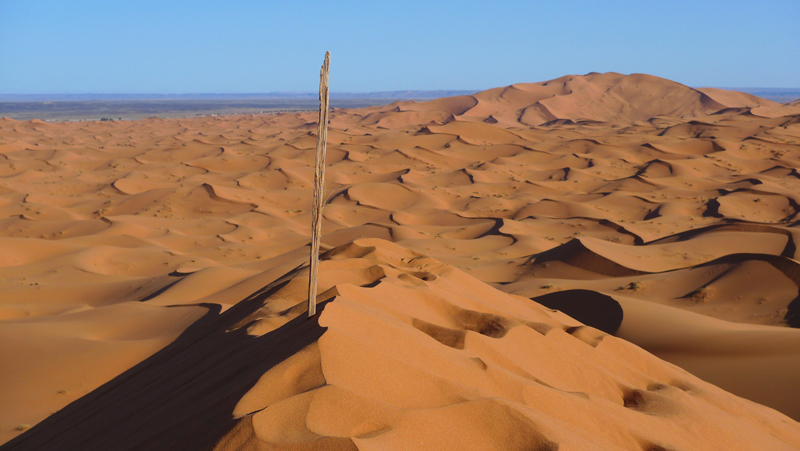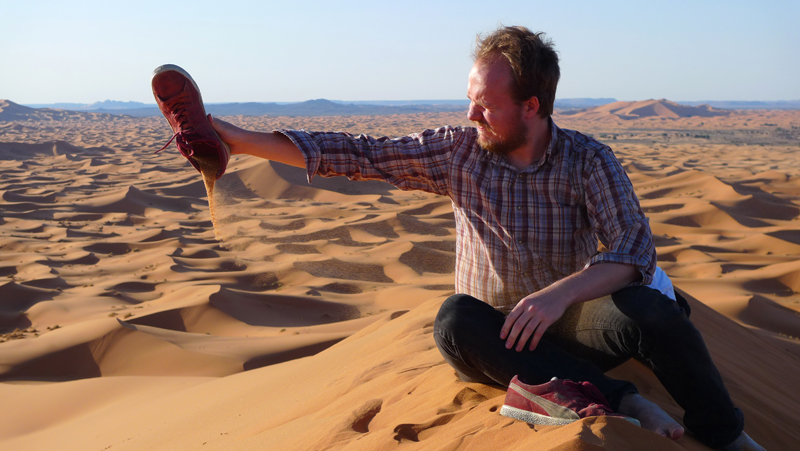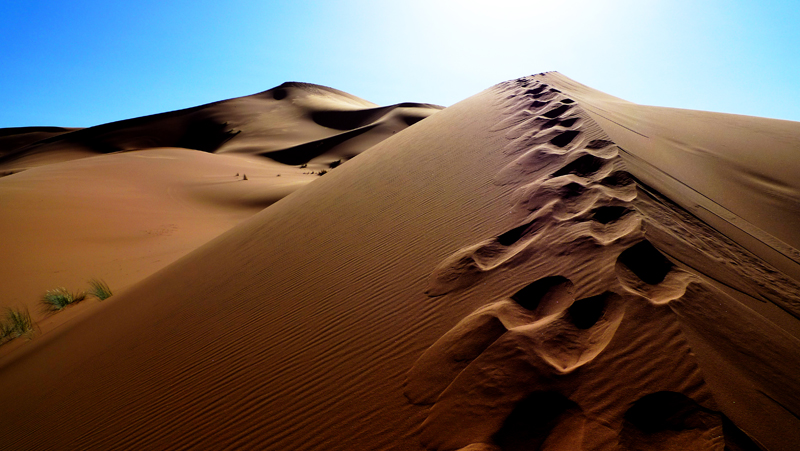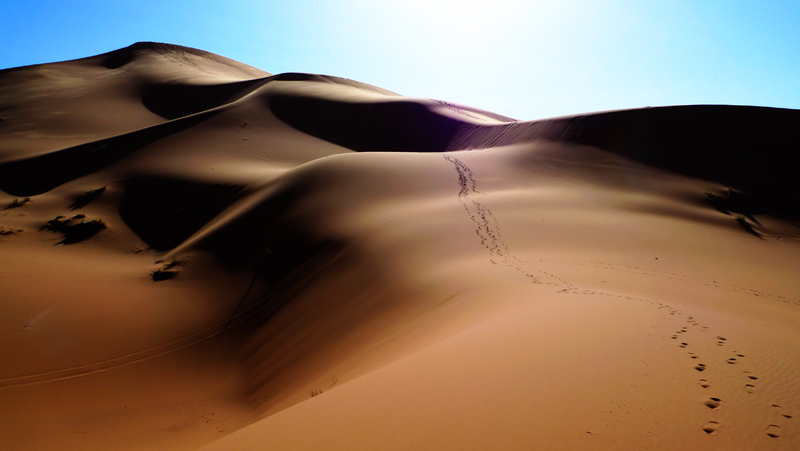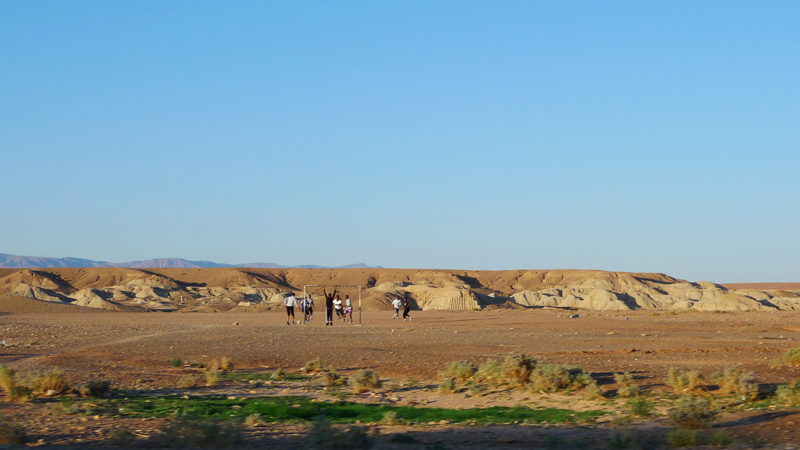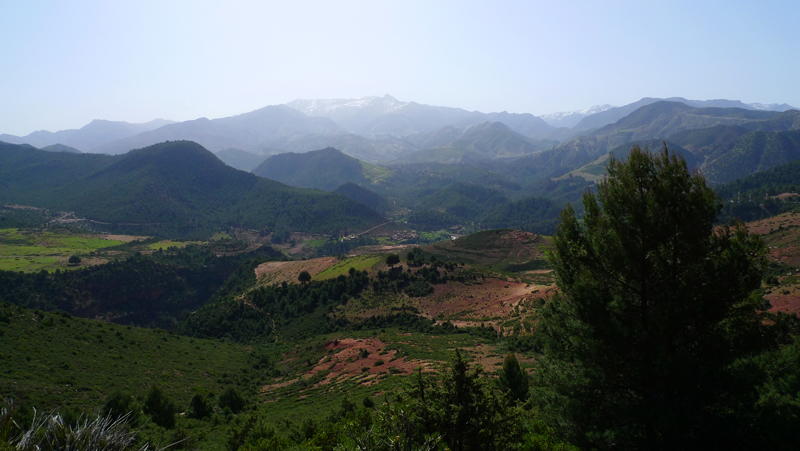 This entry was written by brett, posted on April 3, 2011 at 5:14 pm, filed under Africa, Morocco and tagged erg chebbi, marrakech, merzouga, Morocco, ouarzazate, sahara. Leave a comment or view the discussion at the permalink.