Perhaps those who named this city were referring to the "wind" circulated through the train by the open windows as the sweltering and way-too-crowded-for-10:00-on-a-Tuesday-evening Subte Line D careens (underground) down the left track from Estacion Nueve de Julio in downtown Buenos Aires to Plaza Italia in the slightly too cool for school Palermo Soho. Most certainly they were not referring to the gusts that propel the endless procession of solicitous literature (read: for a good time…) down Corrientes Avenue as I use the occasionally functional payphone in front of my apartment, but I digress…
Buenos Aires is a proper city. It was built as a logical grid of one-way streets that run (generally) north/south or east/west, with the occasional deviation from this grid to accommodate the urban sprawl to the northwest along the Rio de La Plata. Its avenues are grand and chaotic and its side streets cramped and shady. Independently run buses compete with taxis, motorbikes, and fiats (and hoard coins, causing a ridiculous situation in which there is actually a black market for change) alongside sidewalks that are packed with people and lined with 24 hour kiosks, late night cafes, and bookstores. The subway is always crowded and quite useful, although annoyingly non-functional between 11 pm and 5 am. In many ways it's the antithesis of the sprawling and uncontrolled disaster that is Sao Paulo (this is not to say that I am no longer in love with Sao Paulo).
I've been walking a shit-ton since I've been here- upwards of ten miles a day according to the gmap pedometer. The fifty or so blocks back to my place from Niceto Vega in Palermo is actually quite enjoyable, and a great way walk off the beef tenderloin stuffed with ham, cheese, and sun-dried tomatoes (kind of like a ham and cheese burrito, except that the tortilla is a steak) that you just washed down with a bottle of Malbec at La Cabrera before finding out that your friend left his debit card in an ATM machine in Barrio Norte just before dinner.
Unlike many cities that are extremely walkable during the day (why does London come to mind?), Buenos Aires remains this way throughout the night, quite possibly because people are always out. It seems as though one would have try quite hard to get murdered in most parts of this city. Perhaps there is a backpacker conspiracy to keep tourism at bay (not working, as the city is flooded with foreigners, present company included), because I've heard countless tales of carjacking, robbing at gunpoint, and general conniving, but for some reason feel more at ease walking home at 3 am here than I do in my own neighborhood in Chicago. I suppose by 'some reason', I actually mean the fact that there are families with children eating dessert, single women walking their dogs, and countless cabs and buses, occupying the same space at this hour. Beyond this, there is also most likely some doofus from Los Angeles walking around with a digital SLR around his neck and a three hundred dollar pair of sneakers on his feet that will make a much easier target, be it for a bird-poop-splatter camera jacking or a good old fashion "gimme ya shoes" 9 mm stick up.
As I've been hosting a friend from Chicago for the past six days, I've been out all day everyday, trying to do as much "Buenos Aires Stuff" as possible in less than a week. Amongst these activities were parties (Invsn and Zizek), shopping (Florida Street, Palermo, Recoleta, Vila Crespo), eating (Steak and Empanadas, some of which happened at the mall), and general nonsense (post-punk show in an old house in Flores, 4 am conversations with women of questionable morals at streetside cafes downtown). Regretfully, I've taken very few photos. However, the camera is charged, notes have been taken, and as I'm on my own time now, the next few days will be quite productive in the picture making department.
For now, enjoy this random assortment of images and observations from the past week of my life:

My apartment was a mess. Now it's all clean and I'm cozy in bed watching MTVla and blogging.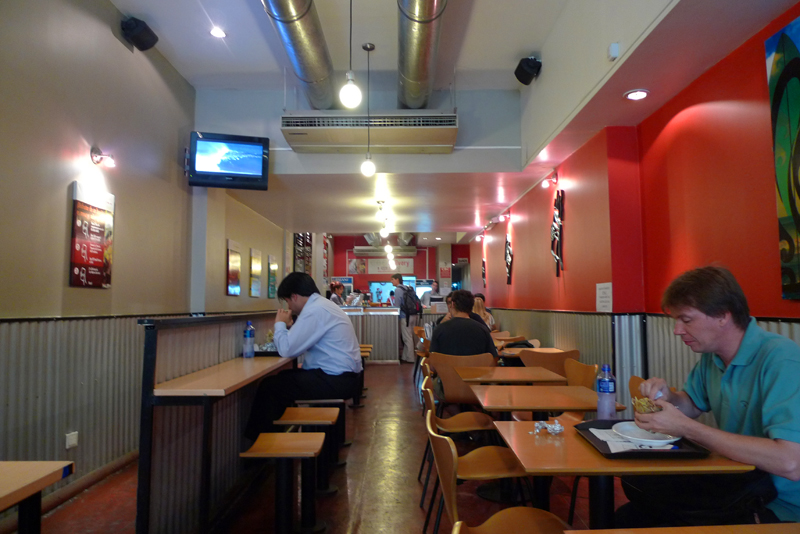 There is this place on Lavalle, about 6 blocks from my apartment, opened by a SF expat, that apparently thinks it's that other white-people oriented burrito establishment from Denver. The only difference is that it's much better and it exists in a city that is completely lacking of spicy food…

…And they have mango pico de gallo. And guacamole does not cost extra. Number three on my list of things I've learned in South America is that mango makes everything better. More on numbers one and two later.

Puerto Madero is the "newly revitalized" (read: River North in Chicago) neighborhood of glass skyscrapers, hotels, and really overpriced food and entertainment immediately east of downtown.

It pretty much blows (these winds are not fair), but Calatrava's bridge is quite nice.

At the far eastern edge of Puerto Madero, beyond the ugly new development, you can find an old walkway lined with little independent parillas.

They look like this and they serve Bife de Chorizo and Quilmes on little tables on the sidewalk.

Walking further down the edge of Puerto Madero we saw some little parrots hanging out on a ledge.

Walking back towards the proper part of the city from Puerto Madero.

Vila Crespo is a neighborhood south of Palermo that has an overabundance of leather shops, some nice tree lined streets, and a ton of auto repair shops.

We found a little cafe on a street lined with auto shops and had a delicious meal for next to nothing.

This building is on Corrientes, in the Abasto neighborhood, on the (long) walk home from Vila Crespo.

This is also in Abasto, which was once the home of the famous Tango musician Carlos Gardel (whom the subway stop is now named after).

This is Jerome in Puerto Madero. He's on an airplane right now, probably over Brazil at this point, bound for Dallas (poor guy), at which point he'll get on a flight to Chicago and finally develop his four disposable cameras from this past week. Let us hope for the best.

I promise not to eat any more steak at the food court at Alto Palermo Mall. And to take more pictures. And to stop hoarding my one peso coins. Seriously.
Yours Truly,
Brett.
This entry was written by brett, posted on March 11, 2009 at 10:31 pm, filed under Buenos Aires, Travel. Bookmark the permalink. Follow any comments here with the RSS feed for this post.